All professionals at Downtown Parker Dental maintain the highest levels of accreditation and pursue ongoing education to stay abreast of the latest trends in the medical field. Read on to learn more about our staff's experience and training.
Dr. Robert DiGiorgio
Dentist in Parker, CO
Downtown Parker Dental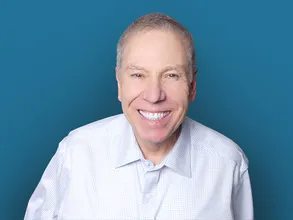 Dr. Robert DiGiorgio has been the dentist of choice for patients in Parker and Douglas County Colorado since 1995. He has had offices in Denver as well since 1980. An experienced general and cosmetic dentist with offices in Parker area of Denver, Dr. DiGiorgio combines his talents with the work of a skilled dental restoration artist to create porcelain veneers and other advanced treatments that take the field of cosmetic dentistry to the next level. Each and every treatment here at Downtown Parker Dental and the practice of Dr. Robert DiGiorgio is custom-tailored to the individual patient for results that work for his or her unique needs. After all, no two smiles are alike, and therefore there are no one-size-fits-all procedures. This important commitment to providing personalized treatment in order to create the best possible outcome has made Dr. DiGiorgio one of the most popular dentists among patients who depend upon a picture-perfect smile, as well as patients from across Colorado who come in to see Dr. DiGiorgio for their dental needs.
Dr. DiGiorgio's practice offers a comprehensive array of treatment options, including general, cosmetic, and restorative dental care procedures, to help you maintain both the health and appearance of your teeth and gums. His offices are designed with your comfort in mind, and numerous amenities are available, including sedation dentistry techniques, to help you relax during your visit. Ultimately, Dr. DiGiorgio is committed to giving you a bright and beautiful smile that is a reflection of your own unique personality – a smile that enhances your teeth as well as your self-confidence.
Education and Memberships
Dr. DiGiorgio earned his dental degree from the world-renowned Georgetown University School of Dentistry in 1978 (YEP!- That's more than 40 years of dental experience!).
He is a life member of the American Dental Association , the Colorado Dental Association , and the Metropolitan Denver Dental Society . He is most proud of his membership in the Academy of General Dentistry through which he was awarded the honorary title of Master of the Academy of General Dentistry. He shares this high honor with fewer than 1% of American dentists. It is emblematic of Dr. Digiorgio's commitment to continuing education since this honor is bestowed on dentists who have taken more than 1100 hours of continuing education in 16 different disciplines of dentistry including, orthodontics, endodontics, periodontics, implants, and cosmetic dentistry.
Parker Dentist Receives Academy of General Dentistry Mastership Award
BOSTON, MASSACHUSETTS, JULY 16, 2016

The Academy of General Dentistry (AGD) is pleased to announce that Dr. Robert M. DiGiorgio, D.D.S., MAGD, of Parker, Colorado, received the association's Mastership Award during the AGD 2016 Annual meeting on July 16, 2016. The Mastership Award is the AGD's highest honor and one of the most respected designations within the profession of dentistry. To earn this award, Dr. DiGiorgio completed 1,100 hours of dental continuing education. As a Mastership Award recipient, Dr. DiGiorgio joins more than 2,300 active AGD Masters who have gone above and beyond the basic requirements to care for their patients' oral health. "This award requires an extraordinary amount of time and effort", says AGD Immediate Past President W. Mark Donald, DMD, MAGD. "Dr. DiGiorgio should be commended for his unflagging commitment to continuing education, which allows him to provide the best possible dental care and oral health education to his patients." Dr. DiGiorgio graduated from Georgetown University School of Dentistry in 1978 and currently practices in Parker and Denver, Colorado. His wife, Linda is the office manager for both locations. They are very proud of their four children – Nancy, Katelyn, Jonathan, and Adam. About the Academy of General Dentistry, The Academy of General Dentistry (AGD) is a professional association of 41,000 general dentists dedicated to providing quality dental care and oral health education to the public. AGD members stay up-to-date in their profession through a commitment to continuing education. Founded in 1952, the AGD is the second largest dental association in the United States, and it is the only association that exclusively serves the needs and represents the interests of general dentists. A general dentist is the primary care provider for patients of all ages and is Responsible for the diagnosis, treatment, management, and overall coordination Of services related to patients' oral health needs.

Dr. Robert M. DiGiorgio, DDS, MAGD, (303) 699-6100, [email protected]