Posts for tag: dental implants
By Downtown Parker Dental
April 04, 2019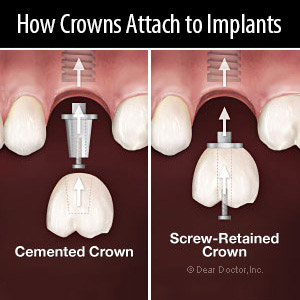 In the realm of restorative dentistry, dental implants are king. A dental implant can replace a tooth with a permanent, life-like restoration with a solid reputation for durability.
Implants are also known for one other quality — variety. Not all implants are alike, and they have varied applications for use. Available in various shapes and sizes, they can be used for a single tooth or as part of a multiple tooth bridge or overdenture. And while their basic architecture is the same, you also have two options for how the permanent crown (the visible tooth portion) attaches to the implant: screwed or cemented.
A screw attachment can securely fasten a crown to an implant without the need for cement; it also allows for easy removal for repair or replacement should the crown become damaged or worn. On the other hand, it could pose a cosmetic problem — even though the access hole for the screw may be covered with a tooth-colored filling, it could still be distinguishable from the rest of the crown. There's also a slight risk of the crown chipping around the access hole.
A crown cemented to the implant won't have this cosmetic issue with an access hole, and will look just like a natural tooth. But unlike a screwed crown, removing a cemented crown can be more difficult. The cement may also cause gum inflammation and potential bone loss in sensitive patients.
The condition of your mouth, the type of implant you're receiving and other circumstances will all factor into determining which method is best for you. If we're "immediately loading" the crown (meaning we're affixing a temporary crown to the implant immediately after placement in the jaw), then the screw method may be more advantageous. Aesthetically speaking, though, a cemented crown may be a better option in terms of final smile appearance.
But whichever method is used, you'll still benefit from what implants do best — help you regain the function lost from a missing tooth and change your smile for the better.
If you would like more information on your options with dental implants, please contact us or schedule an appointment for a consultation. You can also learn more about this topic by reading the Dear Doctor magazine article "How Crowns Attach to Implants."
By Downtown Parker Dental
January 04, 2019
Patients who have missing teeth or major tooth and gum problems often have questions about dental implants. Implants are the modern solution for replacing teeth and are now often preferred over other solutions like dentures and bridges. Here are a few of the most common frequently asked questions about dental implants, answered. Having more knowledge of this dental treatment may inspire you to take action and call your Parker, CO dentist to see if you're a candidate for this procedure.


How Do Dental Implants Work?
Dental implants are designed to serve the same purpose as the root of a tooth. They are small titanium devices that resemble screws that are inserted into the bone tissue below the gumline. When the implant heals into the bone, which may take several months, an abutment and permanent crown are placed on the top. With a porcelain or ceramic crown, the implanted tooth is indistinguishable from your other teeth.

Why Are Dental Implants the Best Solution?
The main reason why dental implants are the ideal solution is that they are permanent. Once they're installed, they're no different than any of your other teeth in terms of function and appearance. They also help keep the bone tissue healthy and strong. When you get dentures or bridges, the bone tissue can degrade over time.

Who Can Get Dental Implants?
Only patients who have generally good dental health can get dental implants. Viable bone tissue is needed to ensure that the implants will stay rooted. That's why it's important to see a dentist for a tooth implant as early as possible. In some cases, a bone grafting procedure can help improve a patient's chances of having a dental implant integrate successfully.

How Long Will Dental Implants Last?
For patients of a certain age, a dental implant has a good chance of lasting for a lifetime. The crown part of the implant can last for up to 15 years before it may need to be replaced. Seeing your dentist at least two times every year for professional cleanings and becoming meticulous about at-home dental care will ensure that the implant (and your other teeth) stays strong and healthy.

Contact your Parker, CO Dentist
Dental implantation is a straightforward and effective procedure that can help improve your dental health and the appearance of your smile. Call your Parker, CO dentist to schedule an appointment.
By Downtown Parker Dental
February 15, 2018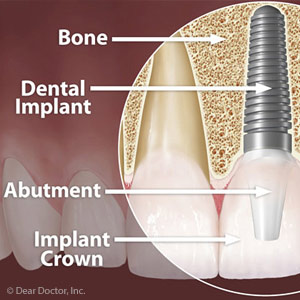 Dental implants are widely recognized as the best tooth replacement option available. For most people, though, it's a long process: after a tooth is extracted the socket is allowed to heal and fill in with new bone before implant surgery: that can take anywhere from two to five months. Afterward, there's usually a two– to three–month period after the implant is placed before the permanent crown (the visible tooth) can be attached.
Without adequate bone present the implant's long-term stability might be compromised. Furthermore, the implant's durability is dependent upon bone growth around and attaching to its titanium post after surgery in a process known as osseo-integration. These two considerations indeed serve a critical function in the implant's ultimate success.
In recent years, however, a variation to this traditional implant process has emerged that allows for immediate implantation right after extraction. Besides combining extraction and implantation into one surgical procedure, immediate implants minimize the disruption to a person's appearance (especially with visibly prominent front teeth) when combined with a provisional crown.
Immediate implants joined together that replace a full arch of teeth can receive biting forces and succeed. Individual implants that replace single teeth, however, won't work in all situations and must be undertaken with care to ensure long-term success. Because there may be less available bone, the implant must fit snugly within the socket to maintain as secure a hold as possible. The surgeon must also take care not to damage too much of the gum and bone tissue when extracting the tooth, which could affect both the integrity of the implant and its appearance in the gum line.
Temporary crowns may be attached during the implant surgery, but they're installed for appearance' sake only. For individual crowns, they must be designed not to make contact with the teeth on the opposing jaw to avoid generating biting forces that will cause the implant to fail and stop the bone-healing process that occurs with osseo–integration.
If you're considering dental implants, it's important to discuss with us which type of procedure, traditional or immediate, would be best for you, and only after a comprehensive examination of your mouth and jaw structure. Regardless of the approach, our goal is to provide you with a smile-transforming restoration that will last for many years to come.
If you would like more information on the dental implant process, please contact us or schedule an appointment for a consultation. You can also learn more about this topic by reading the Dear Doctor magazine article "Immediate Implants."